HitOldies 2, New York's Best Rock, Rock Charts
HitOldies 2 Top 20 Rock Songs – Week of August 31, 2020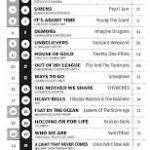 Our first-ever Rock Chart is a blend of Mainstream and Alternative Rock songs as heard here on Hitoldies 2 – Boston's Best Rock. This chart represents the most played new Rock songs heard on over the air radio, but combined to reflect the playlist heard on HO2.
YOUR REQUESTS COUNT!
Let us know what your favorite new song is. Listeners requests will add weight to the national combined HitOldies 2 Rock Chart and will reflect future song positions. Email your request to us – hitoldies2020@gmail.com.  No advertisers,  artists or labels influence our decisions on song placement, but for our first Chart, we had to start somewhere. So we combined the two most visible Rock charts used at that infamous music magazine, along with industry 'spin' data and predicted where each song might place based upon its chart movement over the past two weeks. Hang on tight! Here comes the very FIRST issue, HitOldies 2 Top 20 Rock Chart!
==================
20. The 1975 – If You're Too Shy (Let Me Know)
19. Starset – Trials
18. Chris Cornell – Patience
17. Matt Maeson – Hallucinogenics
16. Pop Evil – Work
15. I Prevail – Every Time You Leave
14. Five Finger Death Punch – I'm A Little Bit Off
13. Evanescence – The Chain (From "Gears 5)
12. Alice In Chains – Rainer Fog
11. Meg Myers – Running Up That Hill
10. Bring Me The Horizon – Parasite Eve
9. Corey Taylor – Black Eyes Blue
8. Skillet – Save Me
9. Seether – Dangerous
8. The Killers – My Own Soul's Warning
7. The Pretty Wreckless – Death By Rock & Roll *
6. Badflower – 30
5. Sevendust – The Day I Tried to Live
4. Blue October – Oh My My
3. Breaking Benjamin – Dear Agony (featuring Lacey Strum)
2. Metallica & the San Francisco Symphony – All Within My Hands
1. Shinedown – Atlas Falls
* PD's Pick
NEW THIS WEEK

:

Scorpions – Sign of Hope
The Rolling Stones – Scarlett
The HU – Wolf Totem
The Cocchi Countdown – Monday & Wednesday, 10 pm Eastern
Al Cocchi, Sunday-Thursday 8-midnight
Steve West, Friday 8-midnight
Coming Soon

:

Big Daddy's Rock & Roll Morning show. Coming September, 2020
---